Suppose your rattan garden furniture is weather-resistant, great! But that doesn't mean you should leave it unprotected or simply never put it in storage.
Rattan garden furniture makes a perfect companion for relaxing in the great outdoors. And if you own a synthetic rattan set, you can leave it out all year round without weathering.
But, even though it may be weatherproof, the cushions and the frames can be at risk. It's always better to be careful and protect them against the elements, especially in winter, rather than being inattentive.
So if you want your rattan furniture to last, you should know how to clean it as well as how to store it for extra protection.
Key takeaways:
Rattan garden furniture

is

weatherproof, but that doesn't mean

all

parts of it are. Rattan outdoor pieces last, but it depends on the material and how you look after it.

Synthetic rattan

furniture is resistant to weather conditions. Yet again, that doesn't mean you shouldn't look after it.

Storing your rattan sets is essential, especially during the colder months – autumn and winter.
Storage is key to prolonging garden furniture life.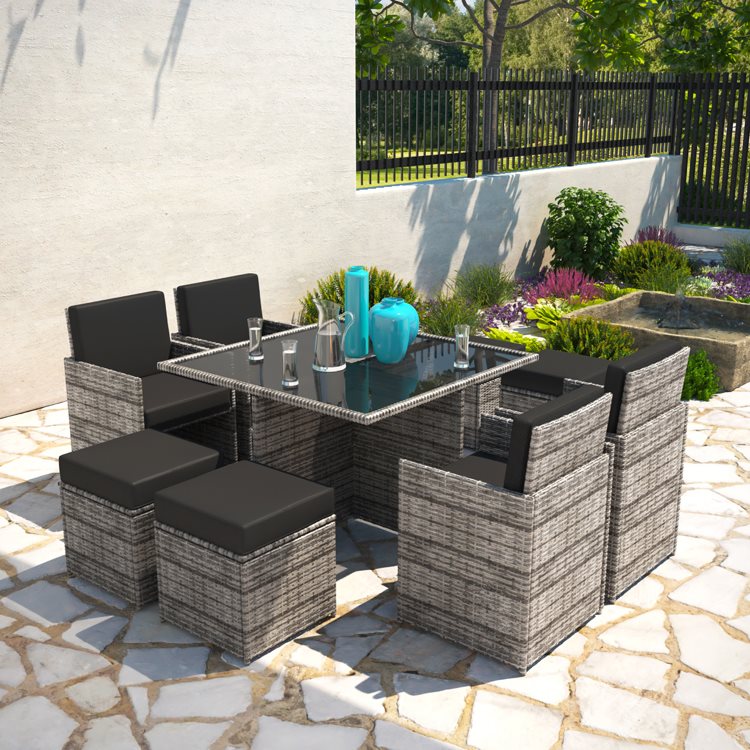 Rattan Garden Furniture Weatherproof Qualities
When talking about the different types of material used for rattan furniture use, you'll find a variety. And, while each possesses unique qualities, there's one type that remains superior.
Hint: it's weatherproof and a lot longer lasting than any other type of rattan. That's right; it's natural-looking but synthetic rattan!
Knowing their differences can help you decide how much protection your furniture needs. Also, you'll know which type suits you and your outdoors best when you go shopping for your next rattan garden furniture set.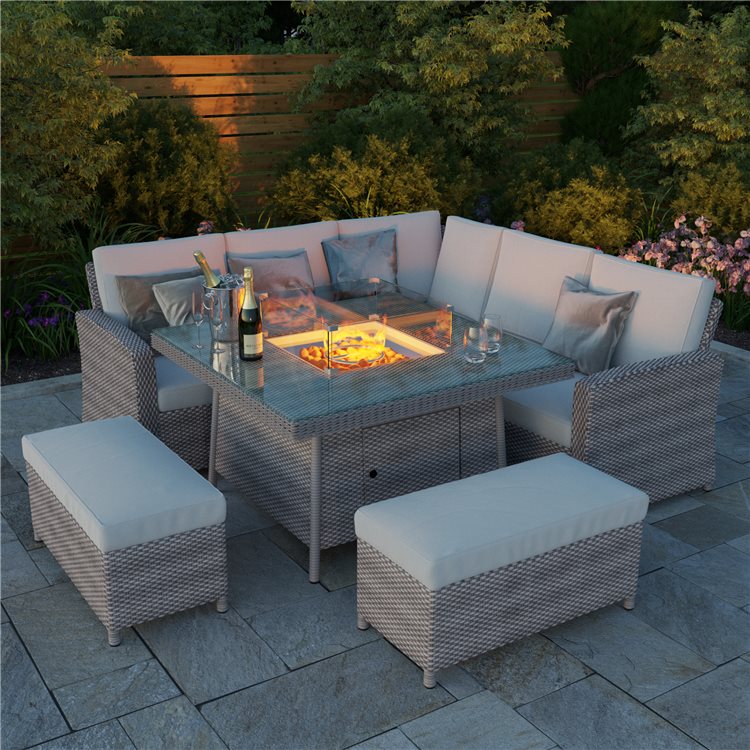 Different types of rattan: how resistant are they for outdoor use
1. Natural rattan
Let's start off with natural rattan. Garden furniture made with genuine rattan gives off a timeless beauty, but that charm can't be showcased outdoors for too long.
Natural rattan pieces are, unfortunately, not waterproof. Plus, they won't last for a prolonged period if left in direct sunlight.
The authentic woven fibres also can loosen over time due to wear and exposure to elements. In short, they're really intended for indoor use.
Although there's a way to weatherproof natural rattan furniture, it can be a hassle compared to when you have an actual UV-stabilised rattan set.
2. Cane
You might also have heard about cane rattan furniture. This kind of rattan material is often woven into different webbed patterns.
Cane is a thin material when woven and is used for wrapping furniture frames, like a rope. It's ideal for outdoor use, but it can dry out and crack over time if it's not painted.
3. Reed
Reed rattan, in contrast, is usually used for weaving wicker pieces and baskets. This material is also utilised for decorative embellishments on wicker furniture.
Yet, like natural rattan, reed rattan furniture isn't ideal for outdoor use either.
4. Synthetic
Now, for the most popular type of rattan furniture, a.k.a. synthetic rattan. Synthetic polyethene (PE) rattan is, as the name suggests, made from synthetic fibres.
The material alone is UV-resistant and weatherproof, withstanding harsh weather conditions. High-grade PE is much more durable and better equipped for the outdoors.
This is one of the reasons why its popularity has risen.
It can handle humid or damp conditions, unlike natural and reed rattan. It's less likely to chink compared to cane and is low-maintenance.
Above all, synthetic rattan is perfect for outdoor use, making it the real winner here! Not only that, but it also has a much longer lifespan than its natural counterpart.
But even if you do own a synthetic rattan set; when the weather takes a turn for the worst, you still need to be vigilant. It would help if you considered storing or covering it to maintain its good shape and ensure it'll last longer.
The same goes for natural rattan, cane, and reed. As they're not suited to the outdoors, you might as well store them away, particularly during the winter months.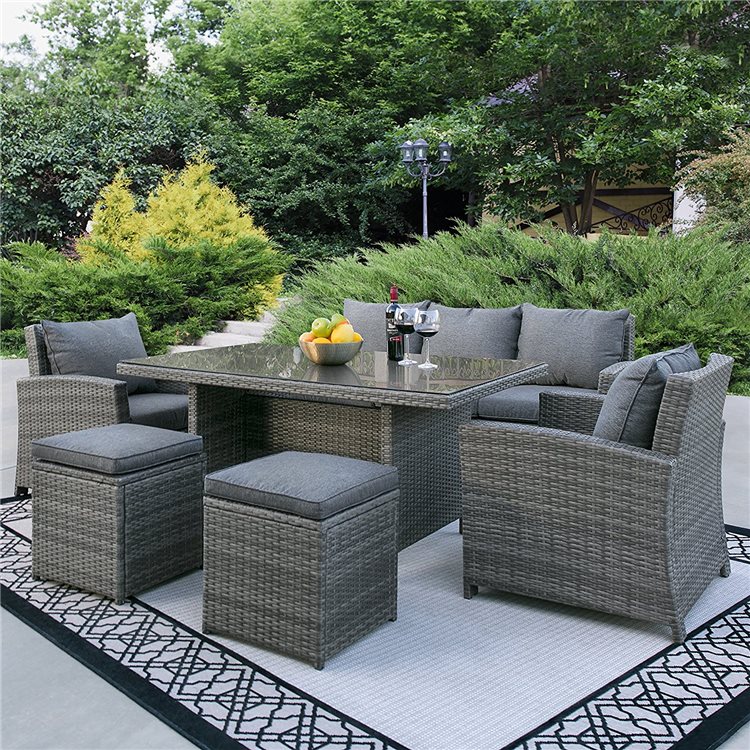 Storing Your Rattan Garden Furniture
October to January are the wettest months of the year in the UK. If you own rattan garden furniture, you should have either put them away or consider adding protective covers.
Storing them in a garden shed, log cabin, or in your wooden garage is the best idea when the winter starts to roll in. Investing in garden furniture covers is imperative, too.
Keep these tips in mind so the next time you have to store your rattan garden furniture, you'll know what to do! You can do any, if not all, of these not only during winter but also when necessary, e.g. during sudden heavy rainfall.
Keep garden furniture protected with covers
You can leave synthetic rattan furniture outdoors all year round if you want, though.  But when rain, frost, and snow all arrive at various points, they'll still test your rattan furniture if left uncovered.
Bird droppings also can be a potential threat to your rattan garden furniture. For ultimate protection, use a cover or keep it stored in your garden shed.
Garden furniture covers work wonders for adding protection from the elements. Even if you're storing your furniture in a shed or garage, a cover will keep it free from dust and even add a protective layer against potential dampness.
But most importantly, it won't need to be cleaned when brought out again.
Covers come in a range of sizes and can be specifically designed to fit your furniture. If you're looking for one, our furniture covers are made from PE, which is waterproof and UV-resistant.
Take a look at the BillyOh Deluxe PE Cover. It guarantees to protect your furniture from rain, snow, sun and other potential problems it may face while outdoors.
It can also help extend the lifespan of your furniture set and ensure its appearance for years to come. So why buy this product?
Made from durable woven polyethene

100% waterproof

UV-resistant

Rust-proof eyelets for a secure fit
Caring for rattan garden furniture cushions in season
A cleaning routine will keep your rattan furniture looking great. This is true regardless of the material, whether natural, cane, wicker or synthetic rattan.
Apart from covering them, an occasional quick clean also works wonders. If your rattan set comes with cushions, a bit of maintenance can make all the difference.
It's best to also take care of all garden furniture crevices and covers as well, that means cleaning glass dining tables, too.
For cushions, most are designed to be durable; withstanding wear and tear. Still, you'll want to ensure that they're protected against heavy rains and UV rays.
You must keep them clean and dry. Here's what you can do:
Every couple of weeks, you can have a cleaning routine for the cushions and tabletops. At least once a year, schedule a deep clean day for the whole set.
Note: Some cushion fabric is waterproof, which is likely to lose shape and colour over time. But with a furniture cover, even the cushions are well protected.
For more rattan garden furniture cleaning tips, this article can be your guide: How to Clean Rattan Furniture.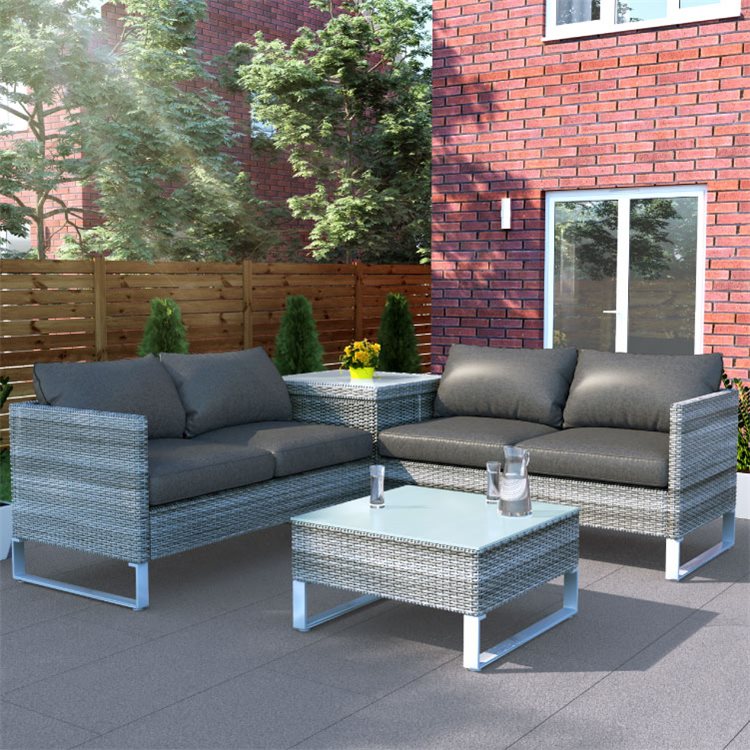 Protecting rattan garden furniture in winter
The best way to care for your rattan garden furniture during winter is to store it in a garden shed. This guarantees the furniture more protection from the elements.
But if it's not possible because your rattan furniture is too big, we recommend removing the cushions, then bring them inside.
If you own synthetic rattan sets, you don't have to store them away. Unless they have cushions, then it'd be best to take them off and store them to prevent mould from building up.
Natural rattan furniture won't last long in frost, either. So, if you own some, make sure to bring it indoors.
If you're looking for a high-quality store that is strong and durable, you should opt for a heavy-duty shed. Wooden sheds are known for providing reliable storage along with a weather-tight seal.
They come in traditional apex or modern pent styles to suit all gardens, too.
FAQs