Adding rattan garden furniture to your patio can make a statement. But it's always better if you get a little helping hand with how to style it with our patio design ideas!
And in the world of decor, the rattan trend is making a major comeback. With people hopping on medieval and minimal interior crazes, rattan furniture has become more popular than ever.
Why is that so? Well, the natural material of rattan adds texture and richness to a room. It suits many styles well, such as contemporary, seventies-inspired, or tropical.
The woven style brings an intriguing accent to any space – be it inside or on the patio. 
Its modern rebirth and versatility offer possibilities in interior and exterior design. Think of Bohemian, Scandinavian, or Retro – whichever style you look at; rattan furniture can be a staple.
And just one way of styling rattan furniture is in the garden or on the patio.
If you need a hand in decorating your outdoor living area with rattan, we're here to help. Let us teach you how to incorporate rattan style garden furniture into your space.
So whether you're planning to buy a rattan dining set or a corner sofa set, we've also included our favourite rattan pieces below. Be sure to check them out!
Key takeaways:
When it comes to design styles on the comeback, rattan is taking over!

We'll show you how to use interior design to style your rattan garden furniture
'Lately, I've noticed a lot more rattan furniture in my Instagram feed so I think it's safe to say this decorating staple of the seventies is making a big comeback!'
Jennifer, interior blogger and owner of Town & Country Living.
Rattan Style Garden Furniture: All About Rattan
Before you hop on the rattan trend, don't you want to know what rattan is and how it's made? What about its different types and the benefits they can offer?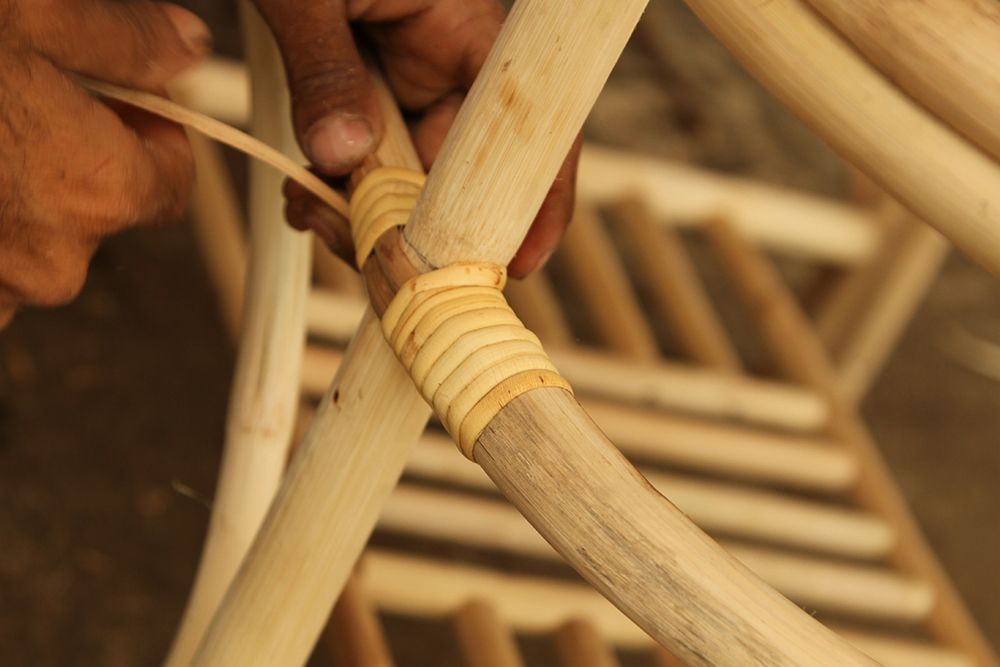 What is Rattan?
Rattan comes from a climbing vine-like palm plant. It's a natural, durable, yet flexible material ideal for a wide variety of shapes and patterns.
The skin of rattan strands is usually peeled off and used for weaving. The rattan core is mainly used in baskets and wicker furniture.
Rattan is also flexible enough to bend into shapes. When torn into smaller fibres, they can be woven into items such as baskets and chair seats.
When rattan goes through this weaving technique, it brings out a natural accent and lush texture. Now, just imagine adding a bit of effort to styling it all properly.
Your rattan style patio setup will be the talk of the town!
Different Types of Rattan
Cane and reed are two types of rattan used for different purposes. There are also synthetic rattans which are man-made and designed to mimic natural rattan.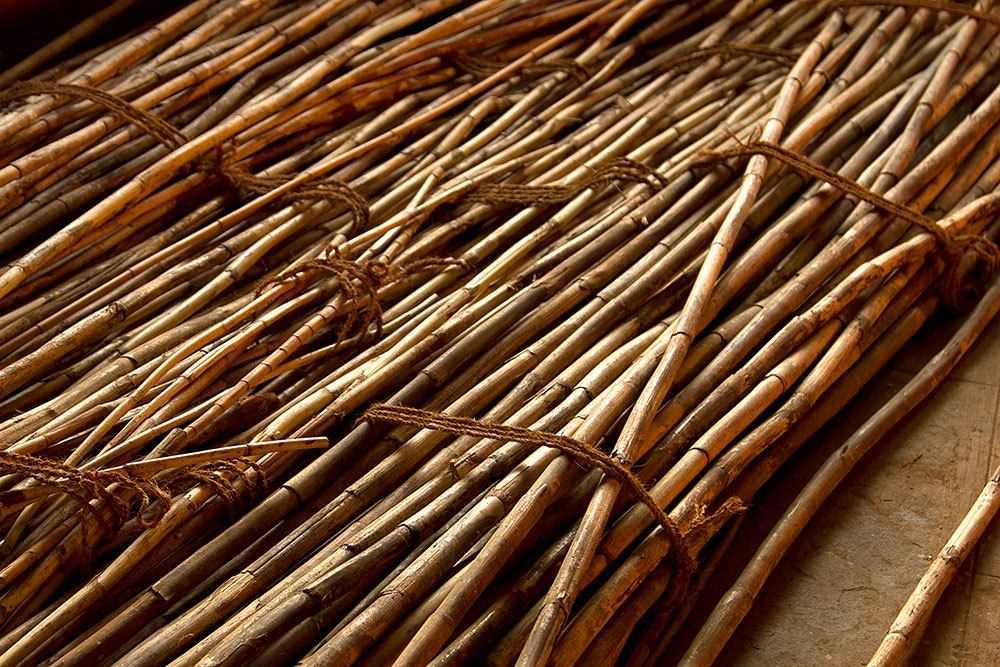 Cane rattan
Cane refers to the rattan layer beneath the thorny outer skin. It's the thinner material that results from the process of stripping the rattan plant.
This type of rattan is perfect for weaving chair seats and backs. It's flexible and durable, making it ideal for wrapping furniture frames like a rope.
Plus, the cane has a natural shine to it and doesn't absorb stains. This is why many cane chair seats also have a natural colour.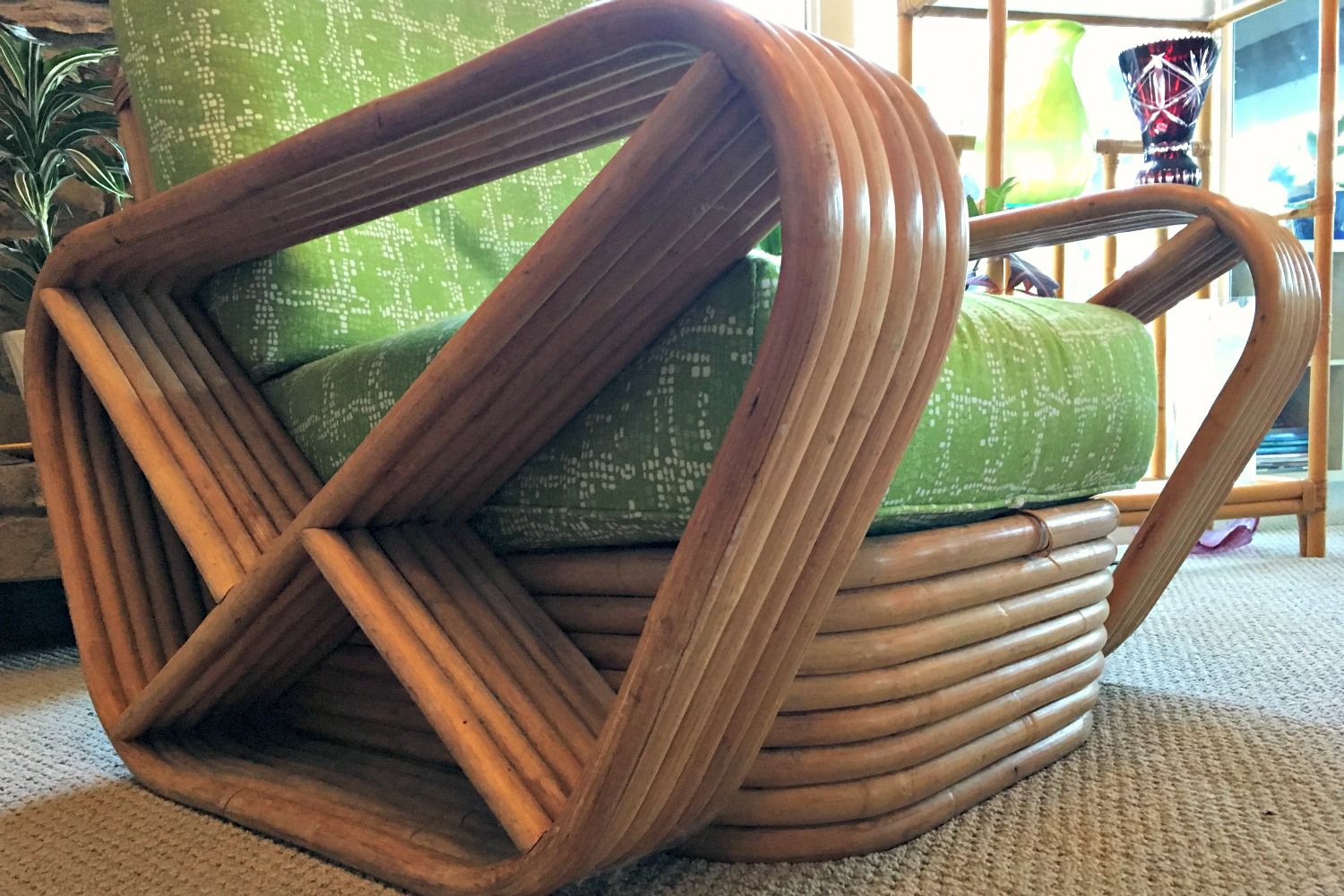 Reed rattan
Reed is the inner core of the rattan palm. It's more fibrous and absorbent than the cane layer.
This type of rattan is a versatile material used in weaving wicker furniture and baskets. Decorative embellishments on wicker furniture are also often made from reed. This includes swirls and curls on Victorian-era wicker furnishings.
Since the reed is the inner pith, it doesn't have the smooth, glossy, impenetrable skin of cane. Hence the porous quality, and its white colour.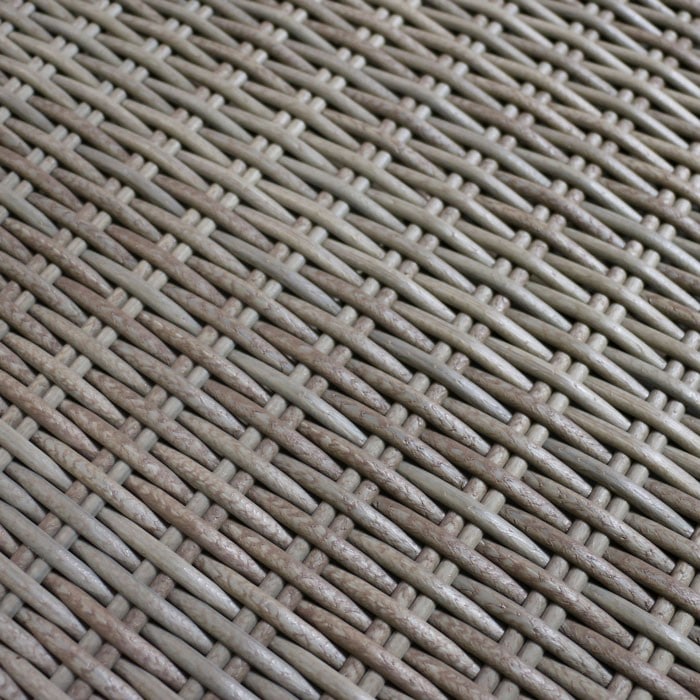 Synthetic rattan
This type of rattan is an artificial fibre, looking like a genuine rattan. It's usually used for outdoor rattan furniture and decor.
It provides a lovely finish and has many advantages. For one, it provides style and naturalness but is easier to maintain.
Many homeowners opt for this type when furnishing their outdoor areas. Large hotels or resorts also use synthetic rattan, especially for their outdoor seating.
Moreover, synthetic rattans are sturdy and durable. They can withstand both moisture and intense sunlight.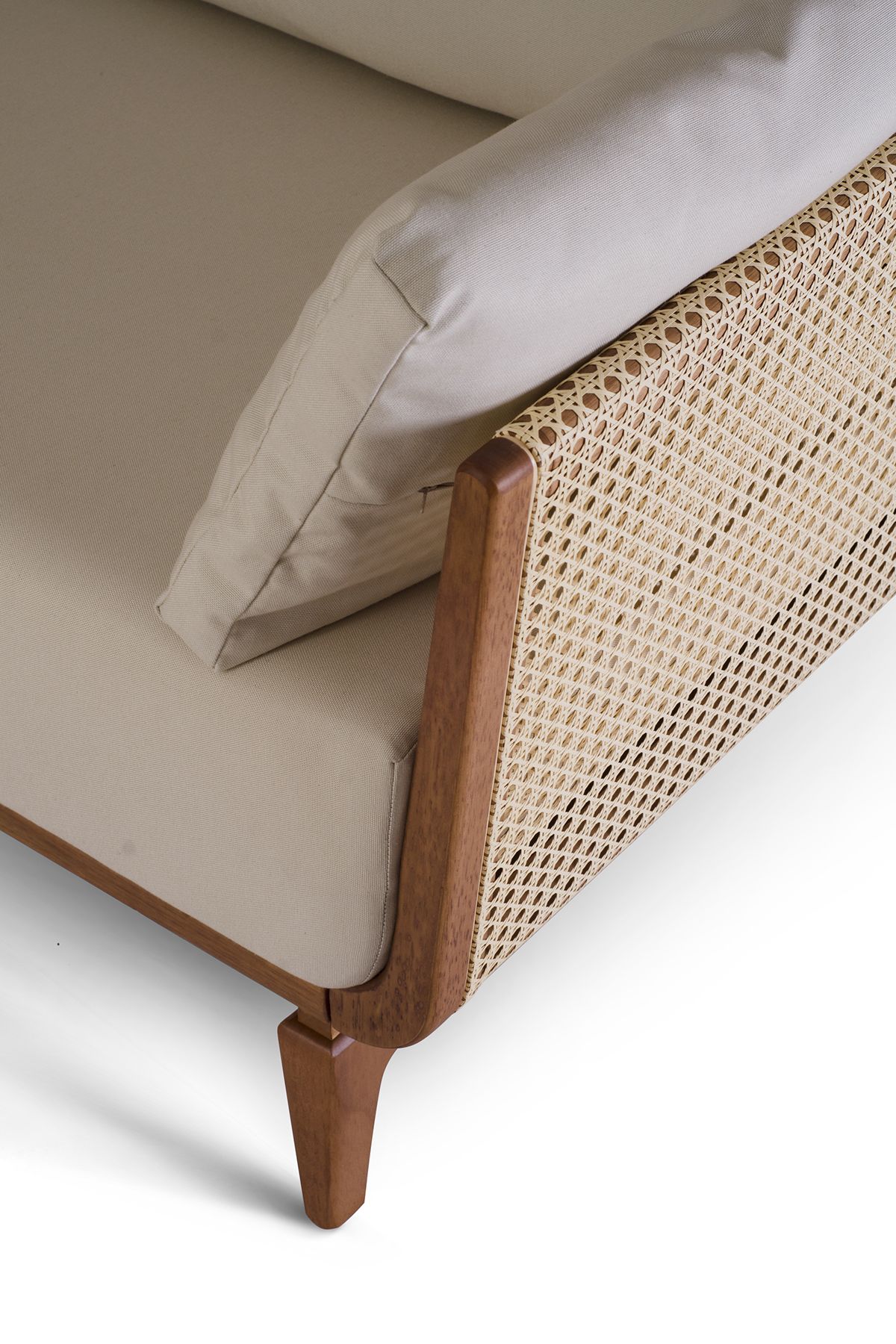 Bonus: flat weave rattan
This isn't a type of true rattan, but it's a cheaper and lightweight rattan style. Flatweave furniture is also easy to move around and durable.
It has a contemporary design and suits most gardens and conservatories. Perfect for year-round use; especially in the summer.
Plus, it only needs minimal maintenance. 
The difference between rattan and wicker
One of the common styles and methods of weaving is wicker.
'The difference is that rattan is a material, whereas wicker is the style and method of weaving. Wicker can be woven from rattan as well as many other natural or synthetic materials.' 
Zoe Garred
The Benefits
Suitable for any occasion, rattan makes for great all-round garden furniture. Be it for alfresco dining or lounging, rattan furniture makes the perfect patio companion.
Garden furniture like rattan also requires minimal maintenance. A simple wash with a garden hose should be enough to remove any dirt.
To get into gaps between the weaves, a fine toothbrush will do the trick.
Rattan garden furniture is also designed to withstand the UK's damp climate. This includes the country's temperamental weather like snow, frost, and even heatwaves.
What's more, the resin weave features UV-resistant qualities. Meaning, the furniture won't experience rapid discolouration when exposed to sunlight.
Rattan pieces are also considered practical not only for year-round use but also for storage purposes.
Just take the BillyOh Modica set, for example. This set of rattan cube furniture makes it easy to store both under itself (if it starts to rain) or away in storage (over the winter).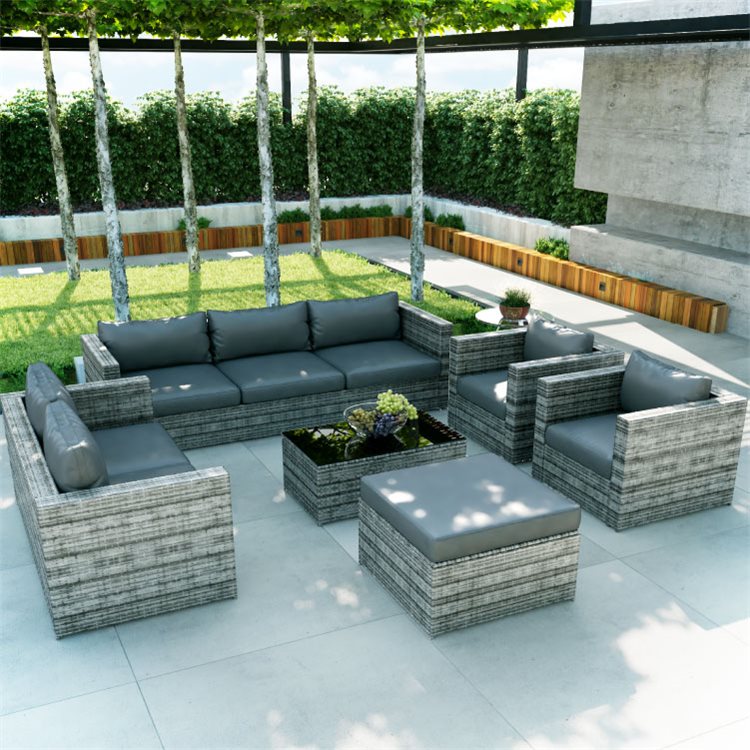 Rattan Style Garden Furniture: Design and Decor
Here's how you can spruce up your space with rattan furniture. We have a few garden design tips, including ways to style your rattan furniture sets.
Get inspired with these ideas and learn how to style yours for the modern era. Let's get started!
Patio design idea #1: Go for an all-white surface
Rattan, including woven material furniture, offers a textural contrast that makes it stand out. This is especially true when they're in a room/space dominated by wood, neutral and whites tones.
Going for an all-white patio can also keep the area cooler in the warmer months. With white or grey rattan furniture, this creates a contrast that allows colourful flowers to be highlighted.
Speaking of plants, you could add to your patio wall with an array of wall planters. There are so many DIY vertical garden ideas that can help you create attractive focal points.
A fire pit can also add cosiness to your space. You can style it by adding a bench around the pit with cushions. Consider printed fabrics to add character and colour.
Apart from your new rattan set, nothing's better than a comfy sit around the fire.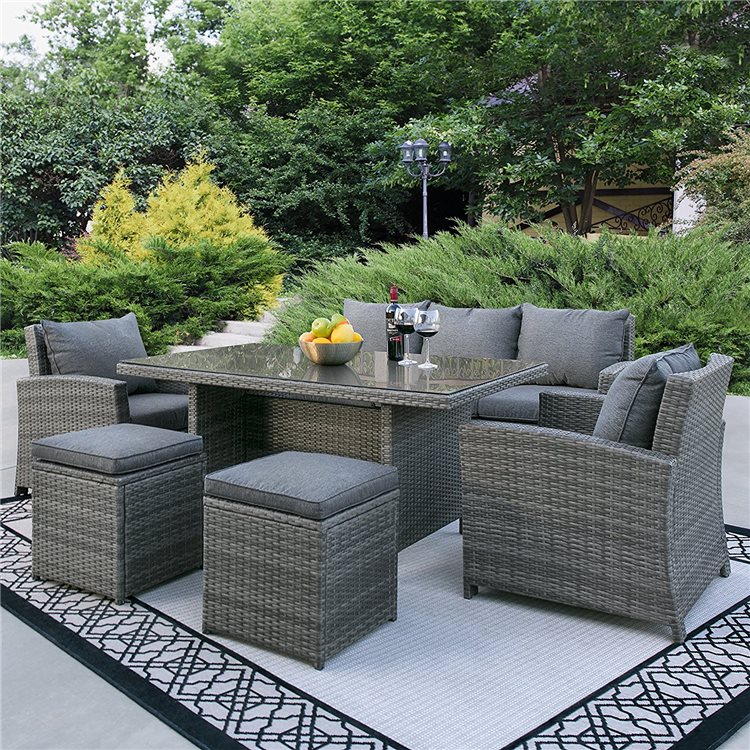 Patio design ideas #2: Incorporating rattan dining sets
The beauty of rattan furniture is that it suits most styles and designs.
Consider the mix-and-match style if you don't want to fill your patio with too many rattan pieces. Mix your rattan garden furniture with wooden fixtures or match it with different weaves.
Try combining rattan with black fixtures or pair it with another natural element like bamboo. These design ideas can help create a dynamic, refreshing and exciting scheme.
Let's say you own a rattan dining set. You could opt for two rattan chairs at the heads of the table and use benches on the sides.
For a more rustic feel, decorate the table with woven baskets filled with dried flowers. Repurposed antiques also make a great centrepiece.
And (favourite product alert!), if you're looking for a rattan dining set, we'd recommend the Minerva Rattan Dining Sofa Set from BillyOh.
This 7-seater rattan dining set gives you loads of different seating and placement options. The set includes a glass top table, three-seater sofa, two armchairs, and two ottomans.
It also comes with thick cushions to keep everyone comfortable throughout outdoor dining. The versatile design gives you the chance to revive the layout and appearance of your patio.
Moreover, its lightweight design makes it easy to manoeuvre. This rattan dining set is also engineered and designed to last, made from premium polythene woven rattan.
Patio design ideas #3: Bistro nook for your small patio
If your patio is on the small side, you can make the most of it by creating a bistro nook. Set up a cosy space for some afternoon lounging.
A rattan corner sofa or bench, round pedestal table, and two stools are all it takes to add a sense of style into your tiny space. A few florals and plants around can add the colour and brightness of nature.
To polish things off, coordinate your throw pillows to your ornamentals and other plants. 
Top tip: Upgrade your pillows to keep your patio fresh each season cost-effectively and efficiently.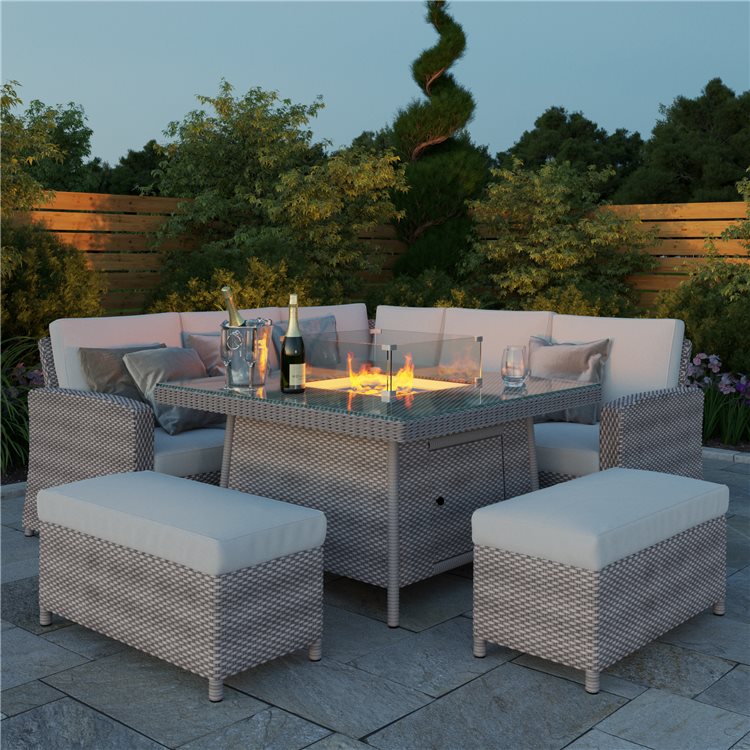 Patio design ideas #4: Blending in your rattan corner sofa
A rattan corner sofa makes for a perfect spot to relax with a good book or cup of tea. 
Adding in a few cushions, a wooden footstool, and a rustic coffee table? Then you can achieve a beautiful looking patio even with limited space.
Consider adding hanging plants as well. You can get the most out of your space and create a dreamy garden oasis feel.
Top tip: To warm up the patio (literally and metaphorically), invest in some throws and opt for chocolate brown cushions to complement your rattan sofa.
If you haven't found the perfect rattan corner sofa for you, the BillyOh Capri could be the one. 
What we like about this rattan garden furniture set is it comes with a fire pit table. And thanks to the two footstools, you can either provide extra seating or kick your feet out when relaxing. 
It's the perfect blend of functional design, comfort, and style.
Patio design ideas #5: French-chic breakfast outdoor patio
French country-style emits a charm that we all get enchanted by. It's refined and elegant.
Paired with a shabby-chic design, it's one of the best ways to decorate your outdoor space.
To step up your outdoor breakfast patio, swap French café chairs with modern rattan chairs. Pair it with a stone stable or a rustic vintage one.
Use a rattan chest or ottoman as side/coffee tables. Hang a rattan pendant light to match the style.
Make the surrounding lush by adding lavender, symbolising Provence. Or opt for climbing plants to create an ambience.
Instead of using terracotta, use watering cans or rattan baskets for the plants. Lots of greenery, paired with rattan elements,  will give your space a French-chic feel.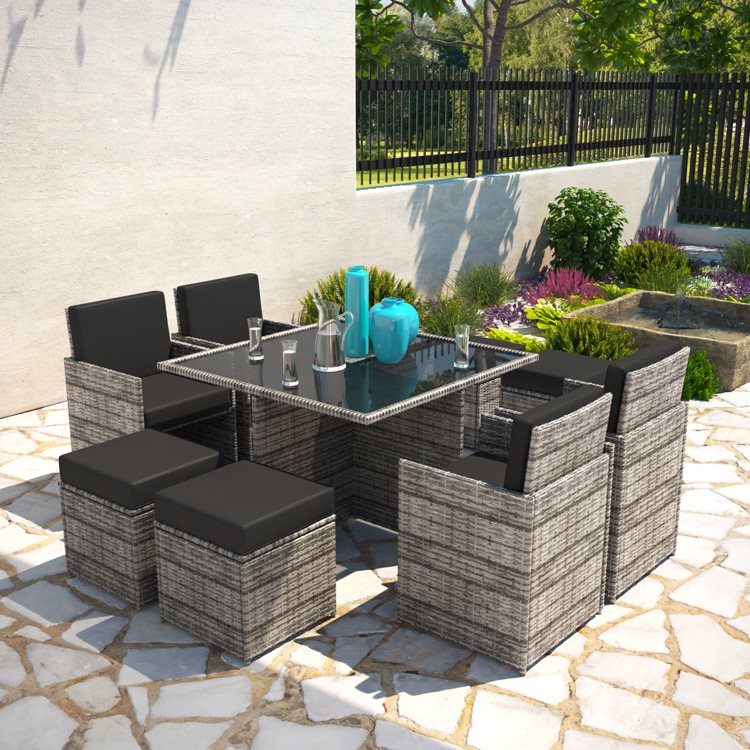 Patio design ideas #6: Modernising rattan cube sets
Rattan dining cube sets give off a classic modern vibe. And do you know what looks good with this type of furniture?
Gravel landscaping and hedges.
Keep things greyscale with gravel as your flooring option. Add a concrete fire pit to the centre of your patio.
Think about where you can gather for drinks and cocktails. Leave a space between seating and place a miniature concrete table.
For cushions and pillows, go for green to match the hedges and, at the same time, add a bit of colour.
Another favourite product alert: Featuring a modern, stylish grey rattan design, you can never go wrong with the Modica cube set. 
This 8-seater cube set from BillyOh is sure to complement any outdoor living area. This dining set looks fantastic outdoors on a patio. 
It's also a timeless-looking set that isn't going out of style any time soon. What's more, its compact design allows for easy storage. When not in use, all parts are compact, making them easy to fit and store away to create more space on your patio.
This set includes four chairs, four ottomans stools, and a tempered glass-topped table.
Patio design ideas #7: A chick hammock for summer getaway patio
If you want something that channels those vacation vibes, hang a hammock. Add nature-inspired furniture like a wooden stool and rattan corner bench.
Swing sofas or elevated seating are also relaxing and comfortable. Plus, like hammocks, they're more aesthetically pleasing than any old seating.
Consider adding a straw roof for shade, a minibar, and even mood lighting. For an outdoor bar, don't forget to choose an eye-catching sign and even a fun tile design.
It could be a whimsical patterned tile with bright colours. These accents of colour complement natural-looking rattan furniture pieces.
Then hang string lights for a summery vibe. If the climate allows, keep things open and have the perfect place to unwind.
What a perfect way to get a glowing tan while relaxing in style!
Patio design ideas #8: Rattan long dining table set with Ivy-covered patio walls
Imagine alfresco dining with the whole family set against a view of ivy walls. Add a palmetto tree in the background and you'll have a castle-looking patio space!
If you have a stone exterior, you can't go wrong with this style. Fig ivy can soften a brick wall, and a tree like a palmetto can be a permanent feature.
Show off your long rattan dining table at dinner parties and opt for green fabric for the cushions. This, in turn, will match the ivy-coloured patio walls.
How to Style Rattan Garden Furniture
Rattan is a versatile material. You can use it almost anywhere, from the headboard in your bedroom to an accent chair in the living room.
With modern rattan furniture, it brings the lovely texture and look of palm into your home and patio. Plus, rattan garden furniture suits most styles and design layouts.
Put a rattan lounger or corner sofa on an all-white patio, and you can pretend that you're in Santorini! Mixing rattan furniture creates a unique space with depth.
And our mix and match concept can also help you develop a personal style that you won't see in other homes!
Incorporating natural rattan with stone materials and greenery is also a great approach. As a result, your patio will feel like a lush oasis. 
Adding a firepit can also bring warmth for cosier outdoor hangs. It allows you and your family or friends to linger outdoors on cool evenings.
Line up some rattan lounge chairs and call it a day on the patio.