Think you haven't got enough room for a garden table for your outdoor space? Well BillyOh style alert: find out how you can squeeze a patio table into your humble garden!
When we hear the word small garden, in most cases, we assume there's not enough room to fit in patio furniture sets. That even the tiniest outdoor spaces can't squeeze in a place for alfresco dining.
This is where small outdoor furniture sets come into play; this is why they exist, why they live and breathe!
Ok, moving on. Rattan garden furniture is available in a variety of sizes to suit any garden setting. So we're confident that here at BillyOh, you'll find the right garden table with garden chairs (or even an outdoor sofa) for your "wee" backyard.
If you want to know our little secrets on how to style your limited outdoor living space with rattan furniture, just keep on reading!
Key takeaways:
Having a small garden doesn't necessarily mean you can't enjoy alfresco dining. With small garden furniture sets (e.g. bistro sets), nothing is impossible!

Even if you have a small patio or deck, you can still have a beautiful patio furniture arrangement. This is especially true if you know how to choose the right outdoor pieces for your space.

Our team has curated some fantastic styling tips on how you can incorporate small pieces of furniture in tight spaces.

This includes how you can utilise a mini outdoor table.
Outdoor Patio Furniture for Small Spaces
Thinking of creating an outdoor dining area? Or perhaps a place for afternoon lounging? Here are some small patio rattan furniture ideas to help you make the perfect arrangement for your space.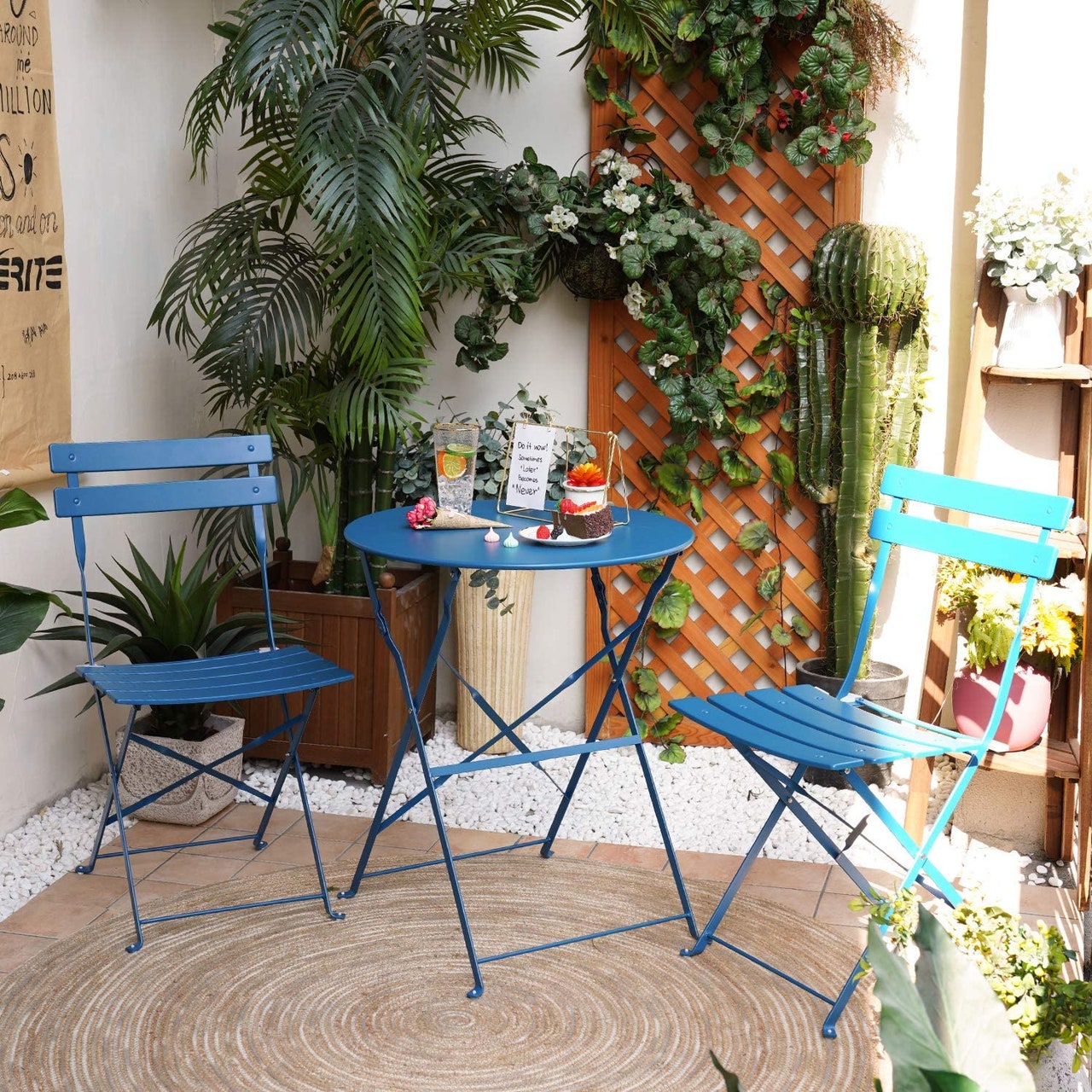 Small patio bistro sets
Bistro sets often come with a round outdoor dining table along with two chairs. They make the perfect breakfast nook set up for narrow patio space, porch, or balcony.
Rattan bistro sets offer a place to sit down and enjoy a morning coffee or an afternoon tea. The patio table may be small, but it's enough to hold even small meals.
Another way you can make the most out of a bistro set is by sipping on a glass of wine with a sunset view. So, if you enjoy dining on your small patio, this type of garden furniture is perfect for you!
Note: If you want to know more about bistro sets, take a look at our handy guide here. We have a lot of exciting stuff to share with you about this garden furniture!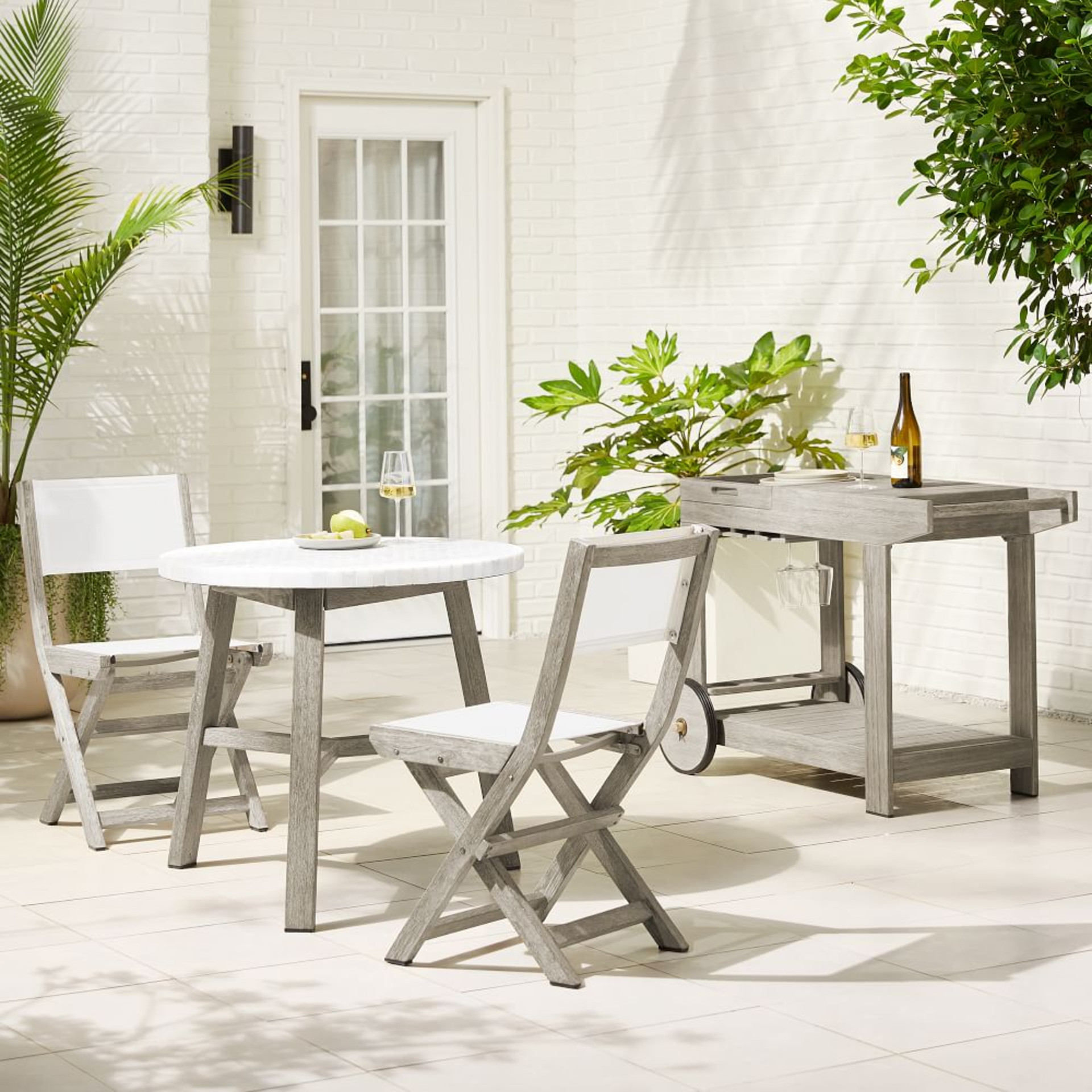 Small patio conversation sets
Watching the sunset with your loved one or a friend in your outdoor space is such a priceless way to end the day. Pair this experience with a simple garden table and chair set; you couldn't ask for more.
Small patio conversation sets can offer you this ultimate convenience. Like bistro sets, they usually come with two patio chairs and a side outdoor coffee table.
Generally, conversation sets are ideal for two people, but there are models with a larger seating capacity. There's also a wide range of chair types for this type of garden furniture.
This includes the following:
Club chairs

Lounge chairs

Rockers

Small patio sectionals
Some sets even come with ottomans which is an excellent benefit for those who want a space-saving set. Most importantly, an ottoman lets you kick up your feet and unwind.
Small patio outdoor sofa/rattan sofa and corner sofas
When it comes to outdoor sofa (garden corner sofa) sets, one of the top choices in the UK is corner sofas. Also known as L-shaped garden furniture, they can be pushed easily into a corner. Thus, giving you extra space on your patio.
Patio corner sofas can also perfectly fit in the corner, hence the name. They usually come in two to four-seaters. Some corner garden sofas even include a coffee table and ottomans for extra foot room.
Thanks to their unique design, corner sofas are fantastic for socialising. And if you often change the setup of your patio, you can move this type of garden furniture around without a sweat!
Note: If you're interested and want to know more about garden corner sofa sets, this guide might be helpful. We've listed everything you need to know about modular corner sofas, including how you can style your garden space with them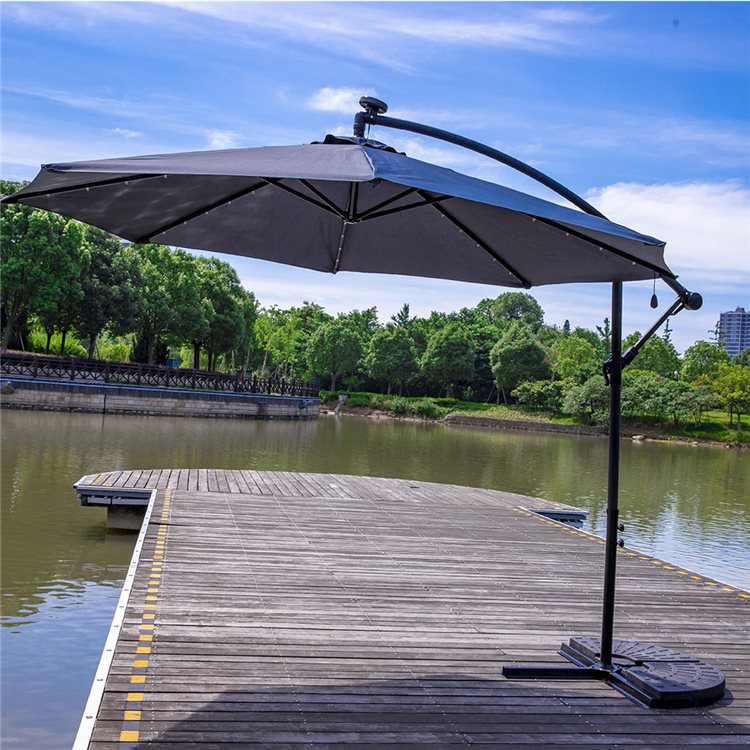 Small patio umbrellas/parasols/accessories
Looking for ways to style and enhance the appeal of your small outdoor living space?
Patio decor and accessories can be your ideal choice; they can complement your space without a hitch. What's more, some of these accessories can even benefit you and the whole family!
For one, a patio umbrella can provide shade and refuge from harmful UV rays. Whereas, an outdoor rug will add a pop of colour and style to your tiny patio or porch balcony.
There's also a fantastic range of accessories that can help you make the most of your small rattan furniture set. Some of these extras can also keep your pieces of garden furniture in good shape for years to come.
Garden furniture covers. They act as shields, keeping your furniture protected from harsh weather conditions. Plus, garden furniture covers ensure your outdoor pieces are clean and dry when not in use.
Garden furniture cushions & pads. For ultimate comfort, adding cushions is key! They make any kind of garden furniture much more comfortable.
This includes rattan furniture sets, metal garden furniture, and wooden garden furniture. Even better, garden furniture cushions & pads can help extend the lifespan of your set.
Patio heaters. These are a great investment, especially if you enjoy spending time on your patio on cold evenings. With a patio heater, you can extend your time outdoors well into the night.
Storage boxes. Unless you already have ottomans to do the job, extra storage is ideal for cushions when not in use. Storage is also essential if you have a small patio, as this can help you maximise your space.
Plant pots and greens. This is optional, but we all know how greenery can add life to any space. If you don't have room for a traditional garden, this is your chance!
Lighting. Nothing beats natural lighting, of course. But for chilly evening hangouts, hanging some string lights will make a difference.
Style Your Small Patio with Our Range of Rattan Garden Sets
Outdoor seating makes it so much better when spending time on patios or in the garden. But it can be tricky to add a furniture set if your outdoor living space is limited.
Luckily for you, outdoor rattan garden furniture has an excellent reputation for gardens of any size. So, you're likely to find suitable pieces for you.
Why not take a look at our range of rattan garden sets below to complete the look of your humble patio or garden space.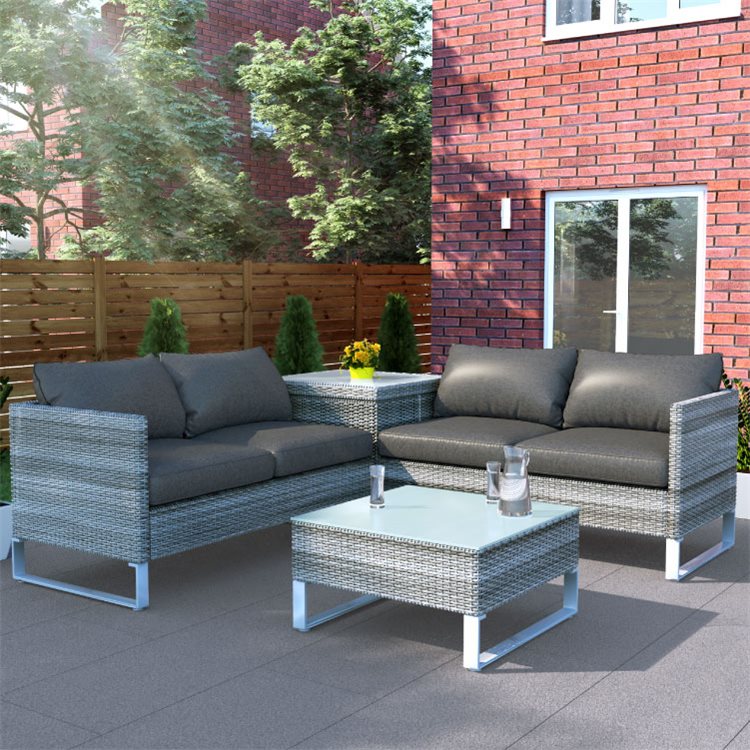 BillyOh Salerno Rattan Corner Sofa Set
Designed with comfort and functionality in mind, the Salerno can be the answer to your problem. Offering the perfect place for outdoor relaxation, you can make the most of your limited outdoor living space with this set!
What we like about this rattan sofa set is it gives off a modern touch. It features a stylish mixed grey rattan colour, which looks great in contemporary garden settings.
Like the rest of our rattan furniture collection, this corner sofa is built to last. The set is constructed using the highest-rated products, such as:
Weather-resistant flat weave rattan

Powder-coated steel framework. A powder-coated steel frame ensures the set will last longer. At the same time, this provides added protection against rain, frost, and snow.
All in all, the set is made out of synthetic rattan. Synthetic rattan furniture is the counterpart of natural rattan that is resistant to weather conditions.
This makes the Salerno an excellent choice of furniture for outdoor entertainment use. What's more, it also comes with a small tempered glass top, weather-resistant table. A large storage box is also included, giving you much-needed space.
Even with all these extra accessories, the set is guaranteed to fit even on your small patio. It comes with multiple pieces; versatile design.
For ultimate comfort, you're going to love the luxurious cushions this set provides. Top tip: to protect these cushions against elements, we recommend investing in garden furniture covers.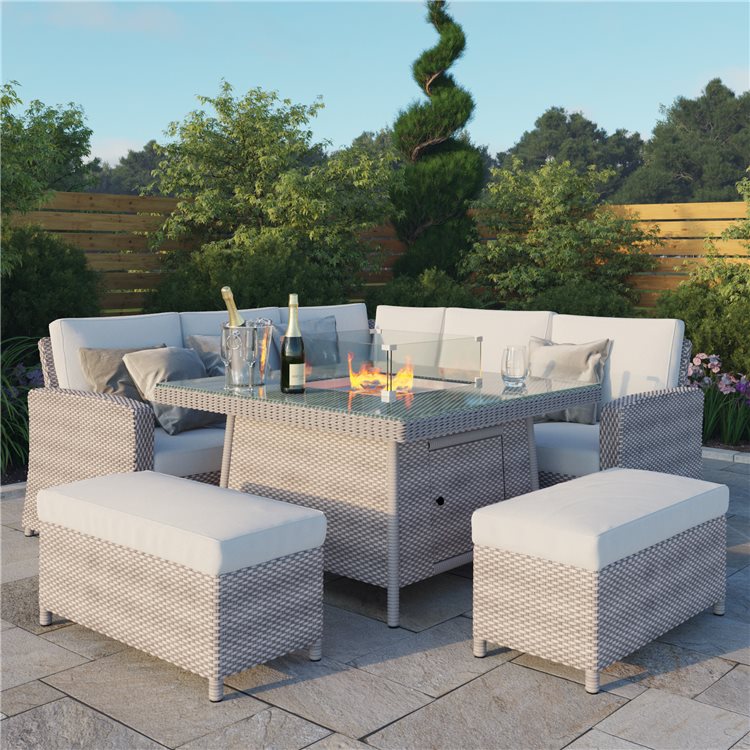 BillyOh Capri Rattan Corner Sofa Set with Firepit Table
When talking about outdoor furniture sets that are worthwhile investments, you can't go wrong with fire pit table sets. Even with a small patio, you can have an open-fire experience during the colder months with the Capri!
Warmth ambience paired with yummy chocolate s'mores on your tiny outdoor space? Staying warm at home has never been more convenient during winter with this firepit table.
The Capri corner sofa set is the perfect blend of functional design, comfort and style. The garden sofas provide you with a soft and inviting spot to sink in. Plus, the additional benches ensure enough space for extra guests.
The highlight of this fire pit table set is the square table complete with an impressive integrated fire pit. It's perfect for alfresco festivities long into the night.
What's more, the stainless steel gas fire pit comes with multiple heat settings. This feature enables you to adjust the temperature to a low ambient or turn it up if necessary. It also comes with protective glass surrounding the fire pit for extra protection.
The convenient corner design also allows you to make the most of the small outdoor space. I mean, who wouldn't want this top-quality and exceptional rattan corner sofa set, right?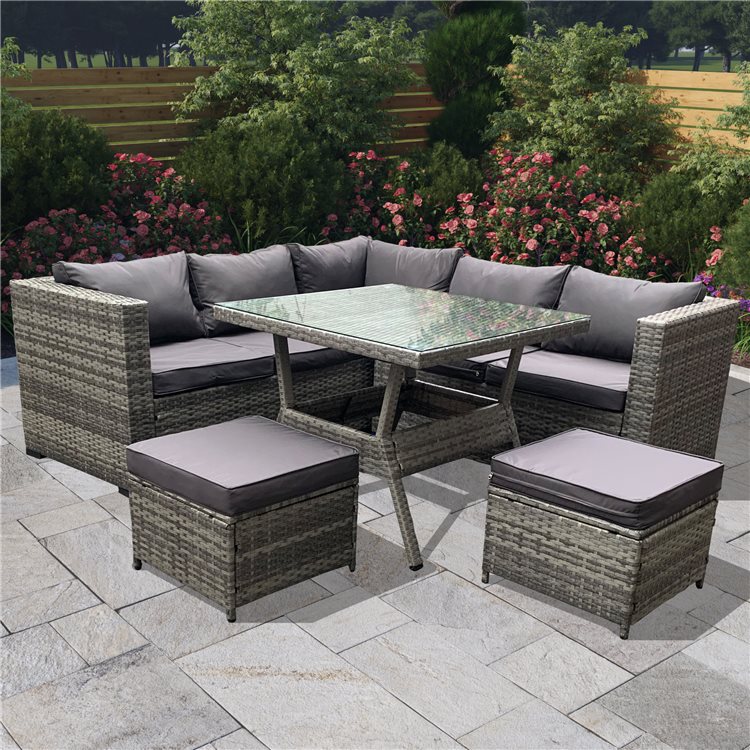 What Can You Do With a Small Table?
Never underestimate the power of a small patio table. It may be small in size, but a small outdoor coffee table can be the focal point of your patio.
For garden spaces that are way too narrow and tight for a furniture set, an outdoor coffee table paired with a stool will do the trick. A small picnic table can provide you with someplace to put your wine and some little snacks while outdoors.
Or, if you enjoy hosting a BBQ party for family and friends, you can use a small outdoor table as a serving station. You can also use it as a decoration for your small front patio. Add flowers and put a sizable welcome mat underneath.
Small garden tables make a great addition to patios, especially those that are limited in space. They're also helpful in decorating homes.
Then browse our range of rattan and aluminium garden furniture with small patio tables. Available via the button below!